Ian Neal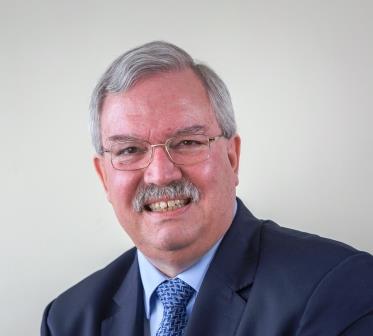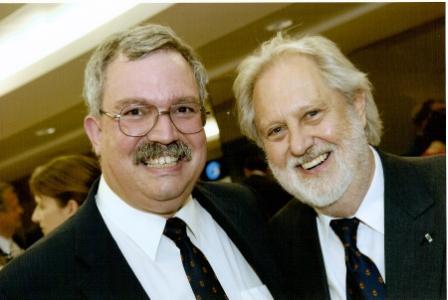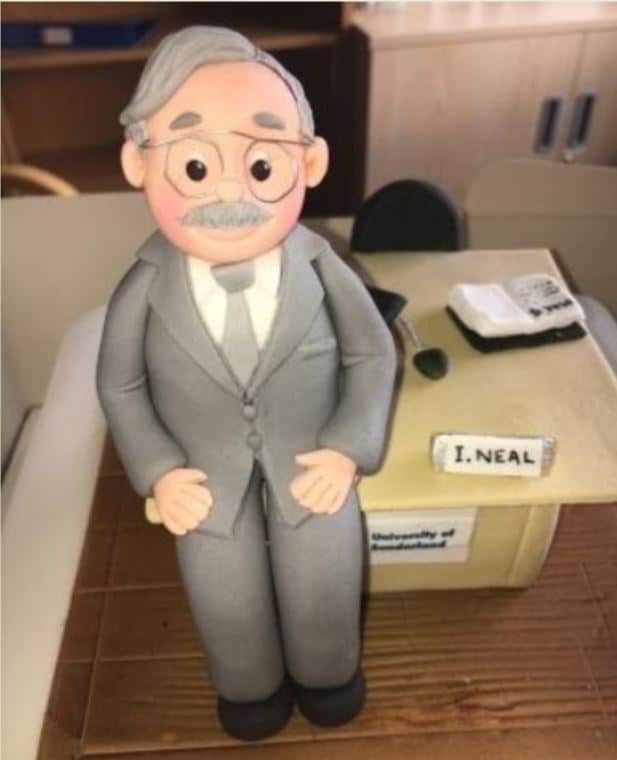 Ian is Emeritus Professor of Education at the University of Sunderland. Until he retired, Ian was Dean of the Faculty of Education and Society and Professor of Higher Education at the University. Above is a picture of Ian with Lord Puttnam, the film producer (Chariots of Fire, Midnight Express, Local Hero and many others), who was the previous Chancellor of the University. The pic on the right is the top of the retirement cake that Alison Griffiths made for Ian - amazing, and got the hair colour spot-on!
Ian was born in Norwich and attended Norwich School and then the University of Keele, graduating in 1979. He then spent some time working as a bus driver in Stoke on Trent. Ian's academic career began as a research psychologist in Staffordshire and then he trained as a teacher, gaining his Postgraduate Certificate in Education. Ian began teaching in a large Merseyside comprehensive school which was a firm foundation for his long career in education. Ian was invited to give a series of guest lectures at the University of Keele before he moved away as he gained promotions in the school education system. Initially, Ian taught biology, science and mathematics to O-level, and biology to A-level; he later included computing and information technology in the range of subjects that he taught to Advanced Level. Ian rapidly gained promotion, becoming Head of Computer Science in the mid-eighties. He rose to Senior Teacher and Head of School in a Cambridgeshire comprehensive school, in charge of the curriculum and academic & pastoral support for 13-16 year old students. During this time, Ian gained his Master's degree in Education (by research).
Ian decided to move from schools to the university sector and after working with several universities as associate lecturer he achieved his first substantive university post when he gained a position with the University of Cambridge, researching schemes of achievement recording and teaching on their PGCE alongside the internationally renowned Rex Walford - a significant influence on Ian's work later. During that time Ian developed the UK's first international student centred review scheme which he launched around the world to operate in Europe, Asia and South America. Ian gained his Postgraduate Certificate in Management during this time.
Deciding that the students of Cambridge University didn't really need his talents, Ian moved to the University of Sunderland as Senior Lecturer and was later promoted to Principal Lecturer in Education. He was programme leader for the secondary programme of school and college-based initial teacher training, writing the school-based approach to teacher education still in place now, characterised by an enhanced generic-education bias which he based on the work that he had done at Cambridge with Rex Walford and assessed through a student-centred competency scheme based on his own research. Ian later became Subject Area Leader for Education, before being promoted to Associate Director of the School of Education (Head of Initial Teacher Training and Quality Enhancement), to Associate Dean and then to Dean of the Faculty of Education & Society which included humanities and social sciences alongside the education programmes. Ian retired from full time employment in 2018 although continues with consultancy work with several universities, PhD supervision and support, and his judicial work.
Ian is a fully licenced amateur radio operator with the callsign M0KEO. Further details can be found in this website here or at QRZ.com.
As well as his academic qualifications, Ian is a Deputy Lord-Lieutenant of County Durham. A Lord-Lieutenant is a deputy of a Lord Lieutenant of a county, Her Majesty The Queen's personal reprentative. In the case of County Durham Her Majesty's Lord-Lieutenant is Mrs Sue Snowdon. The appointment is subject to the sovereign's approval and the commissioning address is here. He holds Fellowship of the the Royal Society for Arts, manufacture and commerce (FRSA), Principal Fellowship of the Higher Education Academy (PFHEA). He is a Magistrate in the Adult and Youth Courts and is a Presiding Justice.
Ian recently found an old photograph from his own undergraduate days - click here
Ian Neal, JP, DL, MA(Educ), BA(hons), PGCE, PFHEA, FRSA