A Holiday Home move
A Decision
| | | |
| --- | --- | --- |
| After a full ten years very happily sited at Stanwix Park Holiday Centre in Silloth, Cumbria, we realised that it was time to move on. Hannah has grown up and left home so the park's excellent facilities weren't so useful to us any more. Foxy Fox doesn't have quite the same draw! The rules of the park meant that while we could stay on the park as long as we liked, selling the caravan wasn't really an option because we would have had to move it (a change in ownership activated the "ten-year rule"). So we got thinking … what if we move the caravan ourselves to somewhere we would rather be? | | |
We spend most of our summer holidays in the north of Scotland … the far north if possible! What if we moved the caravan there and set it up as a holiday home for ourselves, rather than a weekend break location? Stupid idea – it's a long way away! Is it possible to move a caravan that far? Could we find somewhere to take it? None of the holiday sites up there would allow us to move there (that ten year rule again – they want to sell new 'vans, not have ten year old 'vans moving in). So we looked for a location.
Advertising – that's what we'd do. I bet there are still post offices, grocers and supermarkets with our flier on their noticeboards! We even went on Two-Lochs Radio to try to find somewhere! Eventually we did! In Wester Ross. By any standard, a bloody long way.

And then there's the single track roads to contend with. If you've driven in the north of Scotland you'll know about these. Generally about 9 feet wide … and our caravan is 12 feet wide! And there are narrow bridges and gates and cattle grids with high fences either side. This wouldn't be a matter of just hitching the van to the back of the Land Rover and choosing a quiet night for the move!

But we'd made a decision – we wanted to move the van … we'd found a place to move it to. So a bit of research was in order!
| | | |
| --- | --- | --- |
| Another complexity was that there was already a derelict caravan on the site … and that would have to be moved first. The site owner kindly agreed to sort that out for us, so that there would be a clear pitch when we arrived. | | |
The people
We went out for quotations. Most of the people we wrote to simply didn't respond or, when chased, made it pretty clear that a move like this wasn't really for them. Too complicated, too difficult, presumably. One that did give us a quote sounded great until we realised that they had no idea where Wester Ross is!

Quotes requested:

Refused:
No response:
Response but no quote followed:

Quotes received:

11

2
3
2

4
Of those quotes received, two included siting.
So we ended up with four quotes, but one stood out – which wasn't the cheapest (or the second cheapest, actually). So why did we accept this one? Well, they could not only move the 'van, but could also site it for us at the other end. And, on top of that what got them the job was that they sounded nice people and were happy to discuss with us the questions that people like us ask – stupid questions that are only asked by people who have never done something like this before!

They were quiet, patient, efficient right through the planning phase. These people were Davidson's Caravan Transport and, as you'll find as you read on, they were unbelievably good! Joanne Davidson was outstanding at dealing with us, and the police for the licences, and our silly questions (and panics). You'll hear about the rest of the team later.
Davidson's Caravan Transport: The Meadows, Merryknowe, Slaggyford, Brampton, Cumbria, CA8 7NP
01434 376802 davidsonscaravans@hotmail.co.uk
What has to happen?
Unless you are reading this because you actually want to do something like this, you can skip this bit!
Here's our checklist:

Decommissioning (this is after everything has been moved out):
Remove TV aerial
Remove gas boiler flue
Disconnect gas regulator
Remove gas regulator bracket
Fix fridge into recess
Tape and tie all doors and drawers
Tie dining tables and chairs together and wedge with mattresses
Empty cistern – wrap and stow lid
Photograph and measure tiedown locations (so that ground anchors can be fixed at other end)
Photograph and measure water inlet and sewage connection – for connection at other end
Measure overall length, width and height accurately

Paperwork:
Give notice at Stanwix
Arrange move date (Stanwix moved the van off site ready for collection)
Arrange Police clearances for route (Davidson's did this as part of their service)
Sort contract with new site owner
Close one insurance policy and begin another
Order requirements for siting (blocks and slabs)
The route
The route to be taken was about 360 miles in total – a long way. But the distance wasn't really the issue – it was the roads at the far end … but more of that later! The route was:

B5302 to Wigton,
A596 and A595 to Carlisle,
A7 to the motorway, then
M6, A74(M), M74, M73, M80 round Glasgow,
M9 to Stirling and then Perth,
A9 to Inverness and then Tore and Dingwall,
A835 to Garve,
A832
then miles of "B" and unclassified road ("Single Track Road with Passing Places")
Here are a couple of the problems that Davidson's had to deal with. When looking at these two pictures of hazards, bear in mind that the caravan itself is 12 ½ feet wide (or 381 cm).

| | | |
| --- | --- | --- |
| | | |
| OK, so the bridge railings are 395 cm wide, allowing 7 cm each side! | | Now look at this one – a cattle grid with high fences each side … only 300 cm wide – narrower than the caravan – so was the gate beside it. |
| | | |
| --- | --- | --- |
| | | Luckily, the caravan is carried very high on the transporter. It also had very clever air suspension, such that the load could be lifted up, all together, one side at a time, front only or rear only. It was a sight to behold watching the guys working the caravan over those bridge parapets! We were lucky to have chosen such professional people. |
The journey up took a long time.
They paused just outside Garve for a rest.

And then for the night.

(Photo credit: Zach Davidson)
It's probably worth mentioning the outfit. The caravan was led by a wide load escort vehicle – lots of dayglow orange stripes, "WIDE LOAD" signs and lit up with orange beacons and strobes as one would expect. It had to be marked up in a particular way in order for the Police to grant the necessary licences for the journey. (If you are a bit sad, you can find the Highways Agency requirements here. I've read them of course.) You can see the reflective markings in the picture above. Zach drove that, and the partnership between he and the driver of the transporter (his dad) was super to watch. Sometimes they would be close together, sometimes the escort vehicle was well ahead, scouting out the route and giving oncoming vehicles plenty of warning. Sometimes he simply stopped oncoming traffic if, for example, he knew that the transporter would be filling the road (as it did quite often in the run north of Inverness). Then came the transporter itself, driven by Michael Davidson, the firm's owner. Following that was the white Discovery which was there to site the van, but was also very useful to warn drivers coming up behind that they shouldn't try to overtake in the narrower parts. Mickey drove that.

It was a partnership that was really impressive to watch, particularly in the more difficult parts where it needed all three working closely together to make sure that not only was the caravan safe, but other road users stayed safe too. If you know the A832, you'll know the bit that suddenly and without much warning drops to what is known as "single track road with passing places" – very narrow, very winding and with sheer rock faces either side! It's not a short bit, either – it's a few miles long. Traffic had to be stopped at both ends as the vehicle went through!

Arrival
| | | |
| --- | --- | --- |
| So they arrived – here's the gateway they had to get the caravan through … remember its width (381 cm). (The old, derelict caravan is in this picture, but that had been removed before we got there!) | It was a bit tight!! | |
Positioning
Having got the caravan through the gateway, they then had to unload and position it before they could site it properly.
The caravan was untied from the truck, then they winched it down the ramp. The rear of it was then hitched to the Discovery which had a couple of towbars attached to the front. They were then able to pull the 'van clear of the truck which was pulled out of the way. That left the 'van at right angles to the pitch, and there wasn't much space to swing it round!
The first thing to do was shuffle the caravan round so that it was pointing towards the pitch. Then they could attach the Discovery and pull it down into the right place.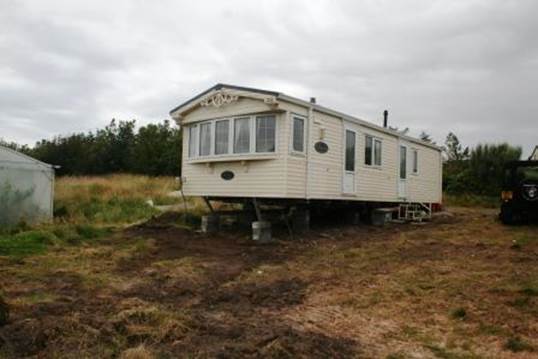 Then the levelling could take place – up onto 20 piers,
each made of a thick concrete base and a pier built of
concrete blocks.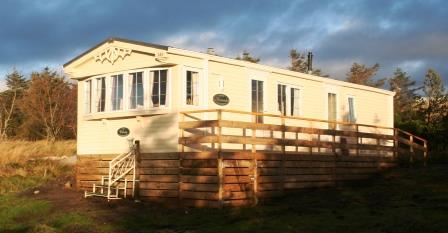 Finally, we could build a veranda.
And the reason for all this … the view, of course! Do you think it was worth it? We do!
HUGE thanks, again, to Davidson's for making this all happen, and for their professionalism, care and downright niceness!
Would we recommend them – YES, absolutely:
Davidson's Caravan Transport: The Meadows, Merryknowe, Slaggyford, Brampton, Cumbria, CA8 7NP
01434 376802 davidsonscaravans@hotmail.co.uk