101 Forward Control Land Rover page
INFO:
Our 101 Forward Control was built in 1977 and entered military service in 1982 (army registration 72 GJ 52). Presumably it sat about in storage for the five years in between. It was 'demobbed' in 1995 or thereabouts and was stored until auctioned to John Craddock Ltd in 1999.
We hope to find out more about it as time goes on.
The Land Rover Forward Control 101 (the 101 refers to the wheel base in inches) was designed for the British Army as an air-transportable heavy duty four wheel drive/gun tug. Production ran from 1975 to 1978. Some were converted to ambulances - and we've bought one of those. The engine came from the Range Rover of the day: alloy 3.5L V8; transmission is the LT95 gearbox with 4-speed gearbox, 2-speed transfer box and full-time four wheel drive with centre differential (and diff lock). Salisbury axles were fitted front and rear, with 5.4:1 ratio differentials - which makes it very low geared. Suspension is by leaf springs (parabolics) and is surprisingly comfortable. It had an anti-roll bar fitted to the front axle, so it's quite stable for a vehicle of this height.. Tyres are 9.00x16" on 6.5x16" rims with six-studs. Bar grip tyres are fitted - which don't help it go round corners very quickly. Really good overviews of 101 vehicles and military ambulances can be found on the ex-military Land Rover association (EMLRA) site.
On the left is the inside of the vehicle. If you know these vehicles, you can see that we've removed the oxygen and compressed air equipment which it arrived with. It was very heavy and cluttered up the inside, and we want a camper in the end. We'll keep the gubbins just in case anyone wants to change it back again. You can see the four stretcher-carriers (the upper right one is wound down to its lowest position), three of which will eventually become beds. The other will be space for kitchen equipment.
The right-hand picture shows the driving position, which is hard to get into, but wonderful once you're there! Below is the 'view from the bridge'.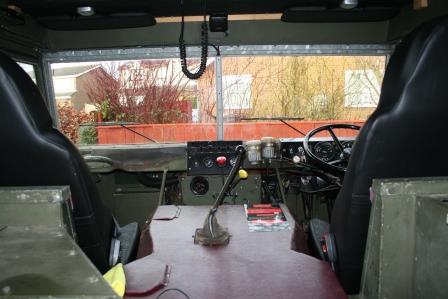 On the left are the gear lever (black knob) and transfer lever (red knob). To the right of the gear levers is the handbrake. Between them, you may be able to make out the diff lock knob, hand throttle and heater controls. Above them, to the left of the steering wheel, are the brake and clutch fluid reservoirs.